Criminal networks are recruiting children
Criminal networks are exploiting children in Sweden. Here we explain what warning signs to look out for as a parent and how the Police work to stop the exploitation.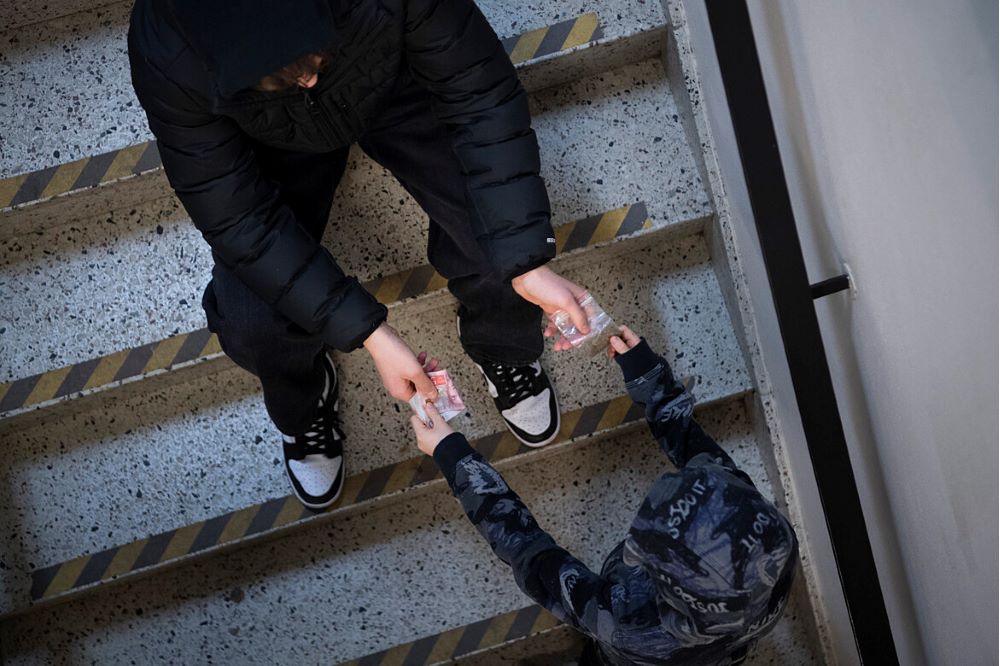 The image is arranged.
If you are a parent or a close relative
You are definitely not alone with your concerns. Speak to other adults around you and be open to accepting support and help. As a parent you are always the most important person in your child's life. This remains the case even when your child doesn't answer you or you argue about everything.
Show that you're there for them, no matter what. Keep asking questions, listen and explain what's what. There's a false image of crime being the path to success. This is completely wrong. Criminals are luring children in order to exploit them.
Tip off the Police
Do you suspect that your child or someone you care about is being lured into a criminal environment? Tip off the Police using our tip-off form. You can also call 114 14. You will hear an automated response, just say "tips" to get to the next stage. You don't have to give your name if you wish to remain anonymous.
Report all offences to the Police
On 1 July 2023 a new act will enter into force that makes it a criminal offence to involve children and young people in criminal activity. If you think that a child is being exploited for criminal acts, it is important that you report this to the Police. It is already a criminal offence to help criminals commit offences.
Support from the municipality and the region
All municipalities and regions offer support to families, although the kind of support varies between different parts of the country. If you are worried, don't put off seeking help. It's better to ask one question too many than too few.
Link to page showing all municipalities
Warning signs
Be aware if your child:
• Changes attitude, conceals things or starts lying
• Starts hanging out with older teenagers or adults
• Swishes money or has more of their own money than before
• Comes home with expensive items and clothes, or buys an extra mobile phone
• Has new values
How do children react?
Children and teenagers who are recruited by criminals can feel under pressure and start experiencing worry and anxiety. Some start skipping school, feel unwell or experience physical pain. Some feel ashamed and try to protect their families.
Why are children recruited by criminals?
From the criminals' perspective, there are many advantages of recruiting young people. A child will not be checked by the Police in the same way as an adult. Nor can a child be prosecuted for an offence. A young person may also be more easily influenced and exploited.
How are they lured?
Criminals can lure young people with food, free lifts or nice clothes. In the short term it can be difficult to resist. Children need help to see through the criminals' behaviour.
Threats and violence
Another way of recruiting is to use threats and violence. If a child has accepted something, they may be told that they owe something and have to "pay back" by performing tasks.
These tasks could be:
• Standing look-out and warning criminals when the Police are coming
• Moving weapons and drugs
• Hiding weapons and drugs
• Carrying criminals' weapons for them
• Selling drugs
Both girls and boys are recruited. Criminals may target in particular children that other children look up to, or children who they have specific uses for, such as someone who is good with technology and programming.
How the Police work to prevent new recruitment
The most important way to stop new recruitment of children and young people to criminal networks in the long term is through prevention. Here we describe some common measures and projects. Part of the Police's crime prevention work involves conversations with parents and custodians. Another part are the different forms of cooperation with the municipalities.
What is temporary custody?
Sometimes the Police will drive a young person home to their parents/custodians or, if this is not appropriate, to social services. This is in cases where there is a serious risk for the child's health or development. The Police have the right to take young people under the age of 18 into temporary custody.
What is a conversation with parents/custodians?
Conversations with parents/custodians are a way for the Police to prevent crime. This kind of conversation can save both the child and others from being subjected to danger in the future.
What happens during these conversations?
The Police will visit the home of the child, or arrange a meeting elsewhere, to talk to both the child and their parents/custodians. Oftentimes, a social worker or school personel will be present as well. During the conversation with the child, the focus tends to be on the child's positive qualities and opportunities. The conversation with the parents/custodians is more problem-oriented and provides information about the consequences of crime and norm-breaking behaviour.
What is the purpose?
The purpose of these conversations is to catch children and young people who are in the risk zone, to show a clear reaction and provide information about the consequences of committing crime. The conversation reviews the child's situation and addresses what is needed to remedy any problems. This kind of home visit can make parents/custodians more aware of the environment their child is growing up in.
What do the municipality's social services do?
Every child is entitled to a safe upbringing. The municipality's social services assess whether a child needs protection or support and finds out what is best for the child and the family.
Social services are there to support families and protect children. If social services need to investigate a situation, the parents and children will be included and given the chance to tell their story.
What is a notification of concern?
If you think that a child is in danger you can report this to the municipality's social services. This is called a notification of concern. The notification should include the child's name, the observations made and what kind of concern there is for the child. Consistent information from different sources will help social services gain a clearer picture of the child's situation.
Staff at the Police, school, healthcare services and dental care are obliged by law to immediately report if they suspect in the course of their work that a child under 18 is in danger.
Different forms of cooperation
The Police and the municipalities work together in a structured manner to help young people who are suspected of using drugs, committing crimes or having contact with criminals. Here are a few examples of the different forms of cooperation:
Schools, social services, Police and out-of-school activities (SSPF)
Cooperation between schools, social services, Police and out-of-school activities, known as SSPF, is intended to prevent and pre-empt young people ending up in a life of crime, being recruited to criminal gangs and/or starting with substance abuse. The objective is for young people to attend school regularly and enjoy a life free from crime and drugs.
Social Task Force (SIG)
The municipalities' Social Task Force, known as SIG, is a joint project of the Police and social services with the aim of stopping new recruitment of children and young people to criminal networks. The Social Task Force can also provide support to individuals wishing to leave the criminal lifestyle behind them.The individuals involved must first give their consent to the authorities sharing information with each other to be able to help each other.
Defection programme
Social services also run a defection programme. The scale of the programme varies between municipalities. A defector is an individual who has chosen to leave organised crime and who is considered to be in need of society's support and protection in order to achieve this. A defector could also be someone under the age of 18.
An individual can defect from a local criminal network, an honour context, violent extremist circles or a loosely defined criminal group. If you or someone you know is in this kind of situation, you should contact the Police. Ask to be put in touch with the regional or local defection coordinator. You can also contact social services in your municipality.