EU and EES citizens
EU and EEA citizens their family members are covered by the free movement inside EU, meaning the right to travel, work and live in another EU country. Most EU countries are also part of Schengen and in general there are no border controls inside the area.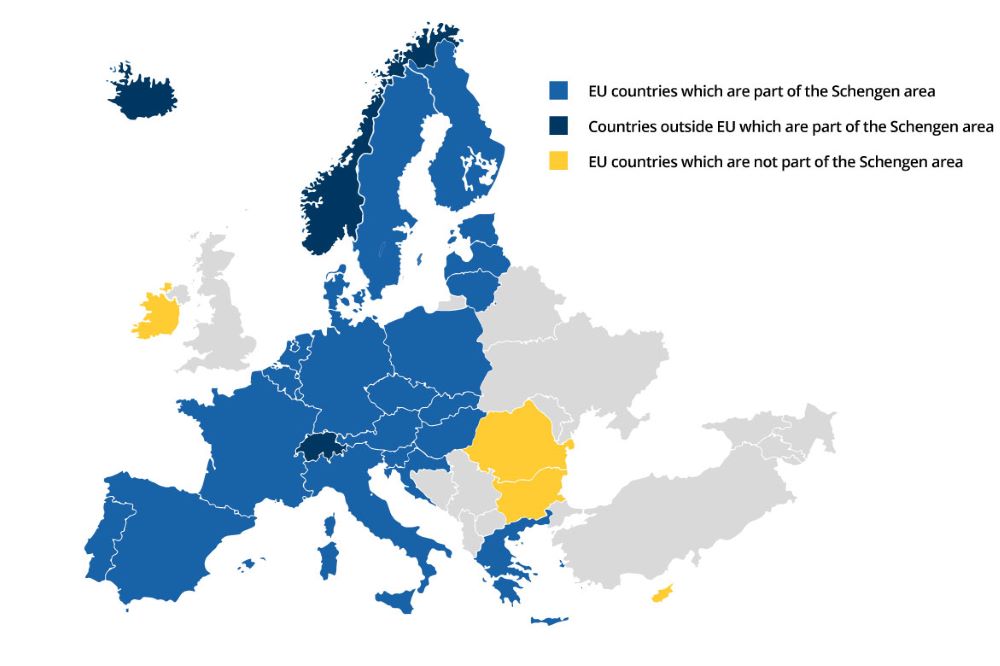 Schengen area

EU countries which are part of the Schengen area

Austria, Belgium, Czech Republic, Croatia, Denmark, Estonia, Finland, France, Germany, Greece, Hungary, Italy, Latvia, Liechtenstein, Lithuania, Luxembourg, Malta, Netherlands, Poland, Portugal, Slovakia, Slovenia, Spain, Sweden.

Countries outside EU which are part of the Schengen area

Norway, Iceland, Switzerland

EU countries which are not part of the Schengen area

Bulgaria, Cyprus, Ireland, Romania
Information about entering Sweden for EU/EEA citizens is also available in Swedish.
Border control can be performed when travelling to or from Sweden. Whether or not border control is performed, and the level of control, differs according to
the traveller's citizenship,
if travelling to or from an EU/EEA country,
if travelling to or from a third country (a country outside EU/EEA).
Specific rules apply to family members of EU/EEA citizens.
Spouses and children who are non-EU citizens, Your Europe
UK citizens are no longer EU citizens. Meaning the same rules apply for them and their family members as for other third country nationals. Certain transition regulations apply for UK citizens who applied for residence status before the deadline.
Applicable laws
Foreign citizens' right to enter and stay in Sweden is regulated by the Alien's Act (2005:716), the Schengen Visa Code (EU) 810/2009 and the Schengen Border Code (EU 2016/399).
Valid travel documents for EU/EEA citizens
For Nordic citizens a valid driver's licence issued in a Nordic country is usually sufficient when travelling inside the Nordics, but it is recommended that you travel with a passport or national ID card. Please observe that you as a traveller are responsible for documenting your citizenship.
For citizens from other EU/EEA countries a valid passport or or national ID card is required.
When travelling outside EU/EEA, a passport is in general required.
Your Europe - Travel documents for EU nationals
National ID card
A national ID card is an identification document issued by an assigned agency in an EU country only to EU/EEA citizens, containing information about citizenship. The card can be used when travelling to and from countries inside EU/EEA. Please note that other kinds of id cards are not valid travel documents.
Travelling inside EU/EEA
EU/EEA citizens can travel to and from Sweden with a national ID card documenting citizenship, when travelling inside EU/EEA.
The Schengen area consist of most EU countries and the general rule is that no ordinary border controls shall be performed when travelling between the countries, regardless of the traveller's citizenship. The EEA countries Liechtenstein, Norway and Iceland, as well as Switzerland, is also part of the area.
Special regulations apply when travelling to and from the EU countries Bulgaria, Cyprus, Ireland and Romania which are not part of the Schengen area. When travelling to and from these countries, a basic border control will be performed, but border crossing will be allowed without a passport if the traveller is an EU/EEA citizen and holds a valid national ID card.
Temporary internal border controls
Temporary border controls can be performed during extraordinary circumstances. Sweden has since 2015 done temporary border controls at the land border with Denmark, Norway and Finland and on intra-EU/EEA traffic in airports and harbours, since the Swedish government still sees a continued threat against the general order and internal security. This means that border control can be performed, but are not always done. Swedish Police will check that persons entering Sweden have the right to enter and stay in Sweden, as well as holding a valid travel document. Swedish Police decides where and when border control is to be performed. The decision needs to be renewed on a regular basis.
While border controls inside the Schengen area has been generally abolished, border control at the external borders have become stricter.
Travelling to and from a country outside EU/EEA
Border controls are always performed when travelling to or from a country outside EU/EEA, even for Swedish citizens and EU/EEA citizens. Border crossings over a so called external border is regulated by the Schengen Border Code which is common for the entire Schengen area. External borders can only be crossed at specific border crossing points during opening hours.
To be controlled at external borders:
Ensure that the travellers holds the documents required, and is also eligble for entering EU, or when exiting that the maximum legal time period in Sweden or the Schengen area has not been extended.
Evaluate if the traveller is at risk of criminal activity in Sweden or EU/EEA.
Evaluate if the traveller is a threat to general order and security.
Check if the traveller can document a plausible reason and conditions for the intended visit, and hold sufficient funds for the stay, and hold a return ticket or money to buy one.
That the traveller is not registered in SIS.
SIS is the Schengen Information System, which contains information about individuals who are denied entry to EU, and about individuals, vehicles or objects which are wanted, like cancelled travel documents.
Risk evaluations
Border control will evaluate the risk for illegal migration and threats to the general order or security upon entry or exit. Even risks for human trafficking and non-sanctioned travels without the legal guardians permission (child abductions) is taken into consideration when a minor's right to entry or exit is evaluated.
The entry and exit control officer is not allowed to discriminate anyone based on gender, ethnic background, religious beliefs, disability, age or sexual orientation. As a result, the evaluation that an individual or group of individuals is to be selected for second line control, can not be based on ethnicity alone.
Border control at sea
Whether a border control at sea is to be performed or not depends on which country the vessel is going to or where it enters from. Individuals onboard a leisure vessel travelling directly to or from an EU country is not subject to border control and as a result, do not need to report at a Swedish border crossing point.
Information in Swedish about Border control at sea
Swedish Coast Guard
Pleasure boat entry-exit form (to complete digitally) (pdf, 1 MB)
Pleasure boat entry-exit form (print and complete by hand) (pdf, 95 kB)
Identity checks are enforced on passenger ships
From 28 March 2022, most passengers over the age of 18 travelling with passenger ships to Sweden from another country, will have to present a valid identification. This identity check will be done by the carrier and is not considered border control. If a border control is to be performed it will be done by the Swedish Police or the Swedish Coast Guard upon entry to Sweden. Questions regarding identity checks or which identity documents are accepted for boarding, need to be posed to the carrier. Or to the Swedish Transport Agency which is responsible for checking the carriers' lists. This will be in effect until 30 June 2023.
Control of goods
Swedish Police is responsible for controlling persons crossing a Swedish border. Swedish Customs is responsible for controlling goods being imported or exported across a Swedish border, and their controls are done independently from border controls by Swedish Police.
If you enter Sweden with pets you need to contact the Swedish Board of Agriculture which are responsible for import and export of animals. Dogs, cats and ferrets from Ukraine used to be exempted from the ordinary import regulations, but as of 1 September 2023 this is no longer the case. Since ordinary regulations are enforced, animals which are not eligible for import to Sweden will be rejected at the border.
Swedish Customs can answer questions about their controls
Swedish Board of Agriculture's information about import of dogs, cats or ferrets to Sweden
Swedish Board of Agriculture's information about pets from Ukraine